It came, it came!! My secret paws came!!
Ok, Mom, you took a picture.....
now
can I open it?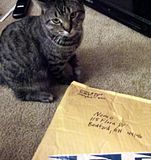 It's from Beau Beau and Angie!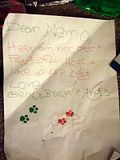 It says "Dear Nemo, Heer am yur secret paws gifts. Hope u like da nip bag. Love, Beau Beau & Angie"...nip bag??? oooooooo!!!
mmmmm, the letter smells like nip......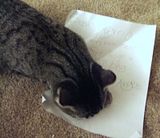 oh, wow-- my favorite treats, Feline Greenies...ooo, and a sample of Temptations..and a mouse, a bright green ball, a fuzzy thingy and.....a NIP BAG!!!
mmmmm.......nip!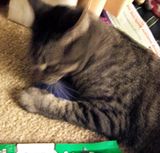 ooo, I love the green ball! It shmells like nip, too!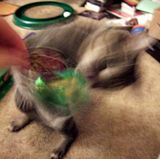 ohh, the fuzzy thingy has rabbit fur!! I looooooove rabitshh fur! (mom had a rabbit skin she had to hide from me)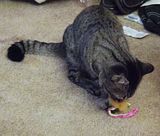 mmpphhh!
Hey, wasn't there a moush in the packgash, too? oh well, I'll find it later
*siiiiiiiiiiigh*
nip!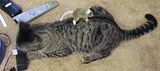 Bear! looky! thish is the beshtest shtuff in da world! NIP!
Mom, pleash! Enuff wif da flashy thingy already, I'm bonding wif da nip!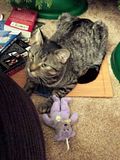 FANKSH SO MUCH BEAU BEAU & ANGIE!!!! I LOOOVE THE NIP!!! (hmmm, maybe I shuld shleep dish shtuff off so's I can tell what I'm shaying)
And the temptations are good, too!
(Mom took more pictures, but I'm not sure how to link the photobucket album...if you can help, I'll put it up)